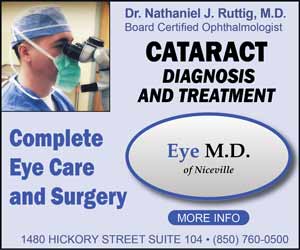 A week full of activities is planned to celebrate and learn a little more about Eglin's environmental role.
The base's annual Earth Day celebration is April 21-25 and coincides with this year's theme of "Conserve Today, Secure Tomorrow."
"Team Eglin has an obligation to conserve resources, reduce waste and prevent pollution," said Brian Kelly, the co-chair of Eglin's Earth Day committee. "Our actions today to protect and conserve will ultimately ensure a sustainable and secure future for our mission to fly, fight and win."
Earth Week is a time to showcase efforts the 96th Civil Engineer Group made managing the recovery of the Okaloosa Darter and reducing critieria polllutant emissions by more that 50 percent in the last seven years.
Event participants can get involved with hands-on activities such as learning to cultivate a native plant garden.
"The garden is used as an educational tool to show people you can plant with native species and reduce the amount of water, fertilizer, pesticides and herbicides you would normally need for plants that aren't found naturally in our area," said Erica Laine, volunteer coordinator.
The garden, maintained year round, always needs volunteers.
Here is the schedule of Earth Week events:
April 21 – Base Exchange recycle display, 10 a.m. to 2 p.m.
April 22 – 5K Eco-Challenge fun run/walk, 96th CE pavilion, 7:15 a.m. show time
April 22 – Earth Day golf tournament, Eglin Golf Course, noon to 4 p.m.
April 22 – Eco-hike, Memorial Trail, 10 a.m. to 1 p.m. This self-paced educational hike has approximately seven stops that offer educational interaction with civil engineers from recycling, energy, forestry, endangered species, invasive plants and cultural. (approximately one mile)
April 23 – Reservation clean-up project, Jackson Guard, 7 a.m. (four-five hours duration)
For more information, or to sign up for one of the events, e-mail Kelly at brian.kelly.6@us.af.mil. For volunteer opportunities, e-mail Laine at erica.laine.ctr@us.af.mil.
Article by Amy Parr
Team Eglin Public Affairs