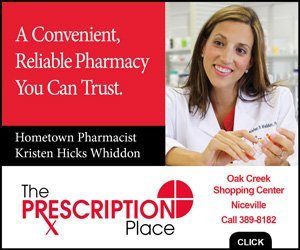 The 2015 Yule of Yesteryear, a free historic holiday celebration presented by the Heritage Museum of Northwest Florida, will be held on Saturday, December 12, 10 a.m. to 4 p.m., at the museum and across the street at Perrine Park in old downtown Valparaiso.
At the Yule of Yesteryear enjoy traditional craft demonstrations, a re-enactment of a Civil War Christmas of 1861 by the Walton Guard, and shop for unique gifts and affordable stocking stuffers from local craft vendors in Perrine Park and in the Heritage Museum Gift Shop and Bookstore.
The Spirit of Christmas will fill the air with music from local Christmas choirs and bands, and the Yule of Yesteryear will feature a special visit from Santa Claus.  Free picture taking for parents.
Food vendors will be serving yummy foods outside, while the Museum will have mulled cider and scrumptious sweets inside at the Heritage Museum's Holiday Bake Sale.
The annual Christmas Tree lighting in Perrine Park will conclude the event.
The annual Victorian Tea hosted by the Heritage Museum – which in the past has been held the same day as Yule of Yesteryear – is being held one week later this year, on Saturday Dec. 19. There will be two seatings: 9:30 a.m. and 2 p.m.
Bring the family and enjoy Yule of Yesteryear at the Heritage Museum of Northwest Florida. The Heritage Museum of Northwest Florida is located at 115 Westview Ave. in Valparaiso.
Schedule:
10:30 a.m.           Pelican Pickers – Dulcimer group
11:30 a.m.           Emerald Coast Chorus
12:00 p.m.           Sugar Beach Acapella Chorus
1:00 p.m.             Pyramid Inc. – Spreading Good Cheer
1:30 p.m.             Reid Soria's – Autism Sings
2:00 p.m.             Ruckel Middle School Choir
3:30 p.m.             Pittman's Christmas Magic Show
4:00 p.m.             First Baptist Church of Niceville – Hand Bells & Caroling
5:00 p.m.             Christmas Tree Lighting in Perrine Park