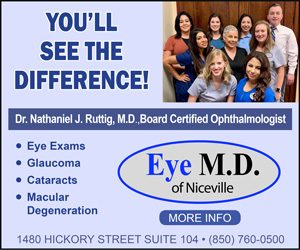 Come on down to Boggy Country October 16, 17 and 18, 2015 for the 39th Annual Boggy Bayou Mullet Festival!  What's our recipe for success?  Start with a savory assortment of food, including tons of tasty mullet.  Add a unique selection of handmade arts and crafts, and then throw in thrilling amusement rides and games.  Top it all off with top-notch musical entertainment, and you've got one of the most enduring festivals in the Southeast!  It's three days full of fun for the whole family, and you won't want to miss a minute!
Joe Nichols returns to the Mullet Festival stage on Friday night.  His personal brand of country music infuses contemporary sound with the traditional style he grew up on.  Nichols has used his smooth baritone to produce hits like "Brokenheartsville" and "Tequila Makes Her Clothes Fall Off," as well as recent chart-toppers "Sunny and 75" and "Yeah."
Saturday night the Mullet Festival welcomes a pair of platinum-selling country bands, Gloriana & Love and Theft.  Gloriana got off to a hot start with their debut single "Wild at Heart" and enjoyed continued success with the hit "(Kissed You) Good Night."  Since releasing their third studio album, Gloriana has been climbing the charts with their latest single "Trouble."  Love and Theft established themselves as one of the hottest young acts in Country Music by reaching #1 with "Angel Eyes." Known for their vocal chemistry, the talented duo is fresh off the release of a new single and album titled "Whiskey on My Breath."
Closing out the festivities on alcohol-free Family Day will be country super group Lonestar.  The band has been named Group of the Year by both the Academy of Country Music and the Country Music Association.  Of their eighteen top-10 hits, nine have reached #1 – the biggest of all being "Amazed," which spent eight consecutive weeks atop the Country charts and was also a huge crossover hit.  Also on Sunday, Dailey & Vincent will provide a crowd-pleasing blend of Bluegrass, Gospel, Folk and Country tunes in a style that has garnered Grammy nominations, a Dove award and thirteen International Bluegrass Music Association trophies.  The CD and DVD "Alive! In Concert" is their third release in partnership with Cracker Barrel Old Country Store.
Children will enjoy performances on the Clown Stage and other special attractions just for them!
Ticket information will be available soon at www.mulletfestival.com.
The Mullet Festival Site is located at the intersection of College Boulevard and Highway 85 North in Niceville.  We hope you enjoy the 39th Annual Boggy Bayou Mullet Festival!