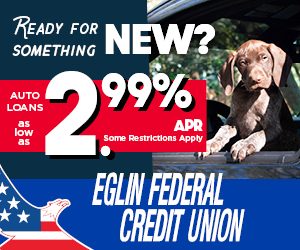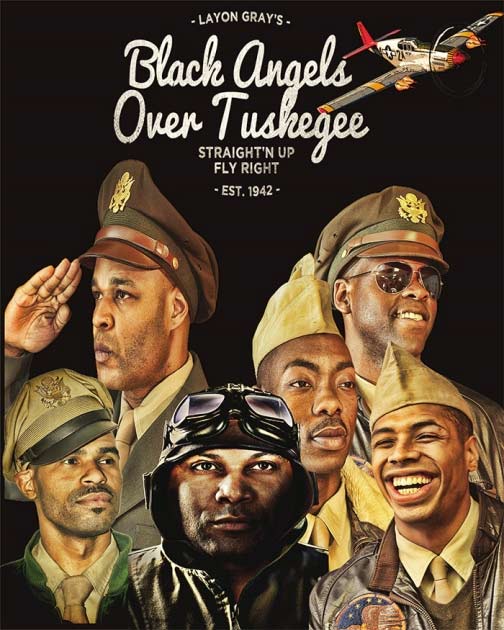 Black Angels Over Tuskegee, Layon Gray's acclaimed Off-Broadway play about the heroic Tuskegee Airmen will appear at the Mattie Kelly Arts Center at Northwest Florida State College in Niceville on Friday, October 7, 2016 at 7:30 pm central time.
There will also be a daytime performance of the history-based drama for schools and youth groups on Thursday, October 6, 2016.
The award-winning, docudrama has performed to rave reviews across the nation, including notable appearances at the Smithsonian Institute and WWII Museum in Washington DC. Based on true events, six men explore their collective struggle with Jim Crow, their intelligence, patriotism, dreams of an inclusive fair society, and brotherhood, as they become the first African-American fighter pilots in the U.S. Army Air Forces during WWII.
Vibrantly energetic and emotionally captivating, Black Angels Over Tuskegee is now in its sixth year Off-Broadway at St. Luke's Theatre in New York. The production has received praise from top critics including The New York Times who described the performance as "Uplifting and Inspirational: and "Tough to Resist!" Original Tuskegee Airman Ted Lumpkin, President of the Los Angeles Chapter, said, "I love this play. It's real and it reminded me of my times at Tuskegee. It's a great show." The play regularly tours across the USA and internationally, shedding light on these inspiring American heroes.
Group reservations for schools, youth and home school groups for the October 6th daytime performance are available now by contacting the program's local sponsor, Dedria A. Lunderman of DAL Consulting Group at (850) 865-5069 or email dalconsultinggroup@cox.net. The play is recommended as most appropriate for middle school and high school age youth. The group admission rate for youth, teachers and adult chaperones (10 or more) attending the daytime performance will be $10 each.
Single tickets sales for the October 7th evening performance will be available starting August 1, 2016 for $37.50 each. The evening event tickets sales for Black Angels over Tuskegee are sold exclusively through the Mattie Kelly Arts Center Box Office by phone, web or in-person. Call (850) 729-6000 or toll free 1-888-838-ARTS (2767) or purchase online at www.MattieKellyArtsCenter.org. The Mattie Kelly Arts Center is located at 100 College Boulevard, Niceville Florida on the main campus of Northwest Florida State College.
Written and directed by Layon Gray, Black Angels Over Tuskegee goes beyond the headlines of the popular stories of the Tuskegee Airmen and reveals the men who exhibited the courage to excel in spite of all the overwhelming odds against them. Black Angels Over Tuskegee won an NAACP Award for Best Ensemble, A New York Audelco Award for Special Achievement and an Artistic Director Achievement Award for Best Play. Other notable appearances of the inspirational play have been for professional sports teams such as the New York Jets, the National Urban League, national NAACP and more. It was also presented at the National Tuskegee Airmen Convention in Las Vegas for over 30 chapters.
The local appearances October 6 and 7, 2016 of Black Angels Over Tuskegee is presented by DAL Consulting Group. Sponsorship opportunities are available to assist with bringing this historic event to the Emerald Coast. For sponsorship details, contact Dedria A. Lunderman at (850) 865-5069 or email dalconsultinggroup@cox.net
For more information about the play log on to www.BlackAngelsOverTuskegee.com. Black Angels Over Tuskegee is produced Off-Broadway by Edmund Gaynes and The Layon Gray Experience.
WHO WERE THE TUSKEGEE AIRMEN? Commonly referenced as the Tuskegee Airmen, these men came together to participate in the Army Air Corps program, which sought to train and prepare African-Americans to fly and maintain combat aircraft. The group included pilots, navigators, bombardiers, maintenance, instructors and support staff personnel who were charged with keeping the planes operable and in the air. The Tuskegee Airman conquered isolation and prejudice to become one of the most highly respected fighter groups of World War II forming the 99th Pursuit Squadron. They proved conclusively that African-Americans could fly and maintain sophisticated combat aircraft. The Tuskegee Airmen's achievements paved the way for full integration of the U.S. military.
The Mattie Kelly Fine & Performing Arts Center is a non-profit entity of Northwest Florida State College. A portion of all Box Office proceeds support NWF State student scholarships.