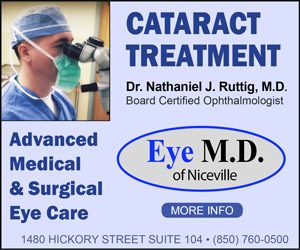 The Prescription Place, an independently owned and operated pharmacy, will open June 15 in the Oak Creek Shopping Center in Niceville.
The Prescription Place is located in a newly remodeled space that was once part of Kmart and will feature both walk-in and drive-thru service.
In addition to fast, convenient hometown service, The Prescription Place will feature friendly faces familiar to many in the community, such as pharmacist Kristen Hicks Whiddon. Kristen and her family are widely known in the community. Kristen's father, John Hicks, is head football coach at Niceville High School. Customers may also see Doug Livingston at the Prescription Place from time to time. Doug operated Doug's Pharmacy in Niceville, the community's last locally-owned pharmacy, and is supportive of the Prescription Place offering an independent pharmacy in the Twin Cities.
"We're looking forward to providing Niceville with a service that hasn't been around since Doug left – a pharmacy with a true hometown feel," said Cari Cole, co-owner. Shane Abbott also is an owner.  Both Cole and Abbott are pharmacists, and they also own and operate The Prescription Place in DeFuniak Springs, which has been serving that community since 2006.
Cole told Niceville.com that customers can expect consistency at The Prescription Place and will see the same employees each time they fill a prescription. She said to expect fast service, too.
"Prescriptions are usually filled within minutes of us receiving it. If you are coming from a doctor's appointment and your prescription has been ordered by your doctor, in most instances it will be filled before you get here," she said.
The Prescription Place will be open Monday-Saturday. For more information about The Prescription Place, visit its website at prescriptionplacerx.com.
The Prescription Place is located at 1140 E. John Sims Parkway.