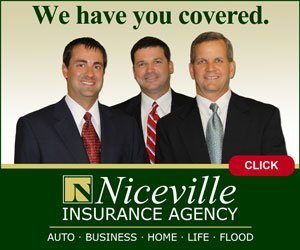 Monty-Python humor, zany mayhem, a massive castle and more will fill the mainstage of the Mattie Kelly Arts Center in Niceville this week, Wednesday, July 16 to Saturday, July 19 at 7:30 p.m. for the Northwest Florida State College production of SPAMALOT. The summer musical is produced by the Northwest Florida State College Fine and Performing Arts Division with a stellar cast of regional community actors and college students. Tickets are now on sale. NWFSC students may receive 1 free ticket per student ID in person from the Box Office.
The hilarious parody of the legend of King Arthur and the Knights of the Round Table is a comedy of colossal scale billed as "lovingly ripped off from the motion picture Monty Python and the Holy Grail." A 2012 national touring production of the comedy sold out the college's performing arts venue and Spamalot's original 2005 Broadway production won 3 Tony Awards including Best Musical and garnered 14 Tony nominations.
The full-tilt summer musical production of SPAMALOT will appear each evening in the 1,650 seat mainstage theater at the Mattie Kelly Arts Center. Advance tickets are on sale now from the Box Office by phone or web at (850) 729-6000 or www.MattieKellyArtsCenter.org for $25 adults and $20 for youth ages 18 and younger. NWFSC students may request one free ticket per student ID in-person from the Box Office. Tickets may also be purchased at-the-door, space permitting, each night of the show starting at 6:00 p.m. Normal Box Office hours are Monday to Friday from 10:00 am to 4:00 p.m.
"We really wanted to present something that was the direct opposite of the emotionally intense Les Miserables we did last summer," said Joe Taylor, the NWF State College dance professor who will make his directorial debut with Spamalot. "This farcical comedy, that's full of both visual and scripted zingers, is simply pure fun for the audience."
Taylor noted that although drastically different from Les Mis in theme, the NWFSC production of SPAMALOT will still be presented in the grand scale local patrons have come to expect from the college's summer musicals. "The show has deceptively big sets, as well as elaborate costumes, funny props and tons of wry lyrics and music for the cast to master," he explained.
Taylor noted that long-time Arts Center volunteer, Audrey Bailey, a 79-year-old British native and Bluewater Bay resident, is helping coach the cast in authentic British accents, as well as working backstage to help paint the massive custom built set. "This is probably the 36th show I've painted and I love every minute of it," said Bailey.
One unique feature is that the 24 foot by 18 foot castle that staff and student crews built from the ground up will revolve through a system of weights and wheels to showcase both interior and exterior scenes. "It's the largest revolving set we've ever built," said Bob Whittaker, the college's Theater Technical Supervisor who praised his student backstage crew and local volunteers for their work on the set construction, which involved more than 3,000 board feet of lumber.
The cast for the zany comedy includes the vocal and acting talents of a cast of 21 regional actors:
The lead role of King Arthur is portrayed by Dominick "Nick" Trolian, a civilian contractor and Crestview resident. Nick is a veteran actor and director but is relatively new to the college's stage. He debuted last summer as the Foreman in the NWFSC production of "Les Miserables". He most recently appeared in the role of Scrooge in Crestview Community Theater's production of "A Christmas Carol" and is a founding board member of the north county dramatic troupe, directing its inaugural production Arsenic and Old Lace in 2012.
A USAF spouse and mother of two Meghan Erlacher appears in Spamalot in the lead role of Lady of the Lake. Well known in regional theater productions, she most recently she worked with Stage Crafters Community Theatre in Ft. Walton Beach playing Mother Abbess in "The Sound of Music" and has also appeared in lead roles with Pensacola State College, Pensacola Little Theatre and Cestview's Community Theatre.
Javonte Coleman of Mary Esther appears in multiple roles in Spamalot, chiefly as Robin. An NWFSC student, this is his third production at the college, most notably appearing as the loveable Scarecrow in "The Wiz" in 2012 and in the ensemble cast of the college's 2010 production of "Grease".
Well known for his lead roles at Ft. Walton Beach High School's active drama program, including Lawrence Jameson in "Dirty Rotten Scoundrels" and Seaweed J. Stubbs in "Hairspray", NWFSC student Sean Royal of Ft. Walton appears in the pivotal role of Lancelot in the NWFSC production of SPAMALOT.
Working toward a degree in Theater & Entertainment Technology at NWFSC, Stephen Shouse,appears in three comedic roles: Patsy, Mayor and Guard 2. The Fort Walton Beach resident is appearing in his fifth summer musical at NWFSC,has also worked as a character at Walt Disney World, and has a long resume of performing roles in numerous shows, dinner theater, as a film extra and more.
Donovan Black of Niceville appears as in the roles of Galahad, Dennis and the Black Knight. A student at NWFSC, he is a member of the college's renowned Soundsations and Madrigals vocal ensembles and appeared as Feuilly in "Les Miserables" last summer as well as Tinman in "The Wiz". His impressive baritone has also been showcased in solo roles with the Northwest Florida Symphony Orchestra and Chorale.
NWFSC film and voice professor Dr. David Simons of Niceville, a regular on the college's stage, appears in the roles of Bedevere, Mother and Concorde. Joking that he enjoys "tossing the holy hand grenade around town" (a prop in the show), Simmons has appeared in numerous NWFSC musicals such as "Les Miserables", "Grease!", "Anything Goes" and "Aida", and has been cast in several operas.
Sivu Schlegel, of Niceville appears in the roles of Fred and Herbert and most notably appeared in the lead role of Marius in "Les Miserables" last summer. A fine and performing arts scholarship student, he also performs in both the college's Soundsations Showchoir and NWFSC Madrigals.
In a rare appearance in front of the audience, look for Mattie Kelly Arts Center's technical director Bob Whittaker of Fort Walton Beach to appear as Herbert's father. "Theater is simply in my blood," said Whittaker who has worked to stage hundreds of national and local productions at the center for 17 years and whose wife Christa is the drama teacher at Fort Walton Beach High School.
Rounding out the cast for the comedy SPAMALOT are:
Male Ensemble members: Zach Phillips of Niceville; Jason Mueller of Ft. Walton Beach; Collegiate High School student Max Murdock of Ft. Walton Beach; Dylan Garofalo of Santa Rosa Beach; Samuel Melecio – Zambrano of Niceville; and Vini Febus of Niceville.
Female ensemble members: Mallory Olds of Niceville, Danielle Fox of Niceville; Maria Boolos of Mary Esther; Katie Pickler of Niceville; Carla VonKaenel of Niceville, and Isab