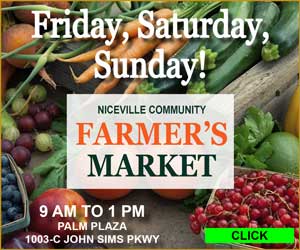 The Soundsations Show Choir, Northwest Florida State College's talented group of fine and performing arts scholarship students, will perform their spectacular variety show of song and dance, in the mainstage theater of the Mattie Kelly Arts Center in Niceville on Sunday, February 7 in a matinee performance at 2:00 p.m.
This event is sponsored by the Destin Snowbirds as a fundraiser for the student scholarship ensemble. Advance tickets will be available in January, 2016 through the Destin Snowbird Club or through the Mattie Kelly Arts Center Box Office by phone or web for $10 each. Day-of-show tickets, space permitting, will available at the door starting at 12:30 p.m. for the 2:00 p.m. show. All tickets are general admission seating.
The Soundsations will be joined by the college's Belle Voci women's ensemble and the NWFSC Madrigal Singers for a portion of the program, as well as by college Dance Ensemble students and instrumentalists. More than 60 talented vocalists, dancers and musicians will be part of the popular annual performance.
For information, contact the Mattie Kelly Arts Center Box Office at (850) 729-6000 or at www.mattiekellyartscenter.org.
The Mattie Kelly Arts Center is located on the Niceville campus of NWF State College at 100 College Boulevard and is easily accessible via Interstate 10, U.S. Highway 285 and Highway 85. The new Mid-Bay Bridge connector road that by-passes Niceville takes coastal patrons directly to Hwy. 285 — in a direct route to the center. The Mattie Kelly Arts Center is just 14 miles from Destin — 20 minutes via the connector road (Bridge toll plus road toll) or via Hwy 285 and Hwy 85 to College Boulevard.