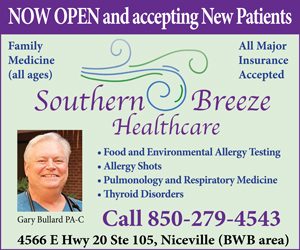 Several youngsters in the Niceville area learned about water safety at Invasion on the Bayou, a recent water safety and reading event sponsored by the Niceville-Valparsio Rotary Club, Bluewater Bay Marina and Paradise Paddle Boards.
Invasion on the Bayou, held April 12, 2014 at Bluewater Bay Marina, partnered with the Joshua Collingsworth Foundation, a Rotary favored foundation that promotes simply teaching children never to be around the water without an adult.
Funds raised from the project will buy water safety books for local preschools. Many of the books will be delivered by the program's mascot, Josh the Baby Otter. The book serves to open dialogue between the children and parents about water safety.
Tammy Matz, principal of Riverside Elementary School, was the event's guest reader and read "Josh the Baby Otter" book to children in attendance. Josh the Baby Otter made an appearance during story time.
A number of local boaters and water sports enthusiasts joined in the event and came together on the water in Rocky Bayou for a photograph.
If you are interested in more information on the local Rotary Club, please email: nicevalrotary@yahoo.com. The Niceville Valparaiso Rotary Club regularly meets in the Student Services Building at Northwest Florida State College every Thursday at noon.
For more information on local civic and service clubs, click here.