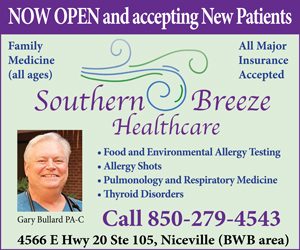 Emerald Coast Theatre Company (ECTC), a newly formed not-for-profit professional theater company based in Miramar Beach, Florida, will stage "Resurrecting van Gogh," a solo performance piece at Seaside REP Theatre on Friday, May 2 at 7:30 p.m.
The play is based on the life, work and writings of Andy Martin, a medical student and oncology patient at Tulane University, who conducted groundbreaking research on sinonasal undifferentiated carcinoma (SNUC), an extremely rare form of cancer that eventually took his life. Under the supervision of Dr. Tyler Curiel, Andy was able to grow his own cancer cells in the lab and establish a permanent cell line to allow important research to continue.
The majority of the performance text is taken directly from Andy's unpublished, private journals (with permission from the Martin family).
The performance, which was first seen at The Ohio State University and The Creative Center in New York City, is directed by ECTC producing artistic director Nathanael Fisher and stars Jason Hedden, a local actor, director and professor based on the Emerald Coast. Hedden holds theatre degrees from Gulf Coast State College, the University of South Florida and an MFA in Acting/New Works from The Ohio State University.
Nathanael Fisher said, "This short, thought provoking performance piece is followed by a documentary and Q&A session. Anyone who has been touched by cancer can expect to be moved and inspired with hope." Fisher also mentioned, "The Arts in Medicine program at Sacred Heart Hospital serves a great purpose — we invite everyone in the community to come out and support this worthy cause."
This collaborative community project will benefit Sacred Heart Hospital on the Emerald Coast's Arts in Medicine program, which is designed to bring performing, meditative and the visual arts into the hospital setting as a form of healing therapy for patients. This is accomplished through workshops for staff, artistic activities at the bedside, and musical performances in outpatient clinical areas and waiting rooms.
Seaside REP Theatre is located at 216 Quincy Circle within the Town of Seaside on County Road 30A. This special performance of "Resurrecting van Gogh" is open to the public. General admission tickets to the performance are $15 for adults and $8 for students. To reserve tickets, call the Seaside REP box office at (850) 231-0733.
For more information on Emerald Coast Theatre Company, call (850) 687-1637 email info@emeraldcoasttheatre.org or visit www.emeraldcoasttheatre.org. Find ECTC on Facebook at ECTheatreCompany.
ABOUT EMERALD COAST THEATRE COMPANY
Emerald Coast Theatre Company is a 501(c)(3) founded in 2012 by Nathanael Fisher, MFA, and his wife, Anna Fisher. Based in Miramar Beach, Florida, ECTC's mission is to enrich and entertain the Emerald Coast community through professional and educational theater. ECTC operates year-round with a two-fold mission to provide both educational and professional offerings to the Northwest Florida community. Educational outreach includes after school and home-school programs, touring and staged productions, summer camps, workshops and classes. The professional theater efforts are focused on family-oriented productions, festivals and collaborations as well as acting and improv workshops and classes for adults.