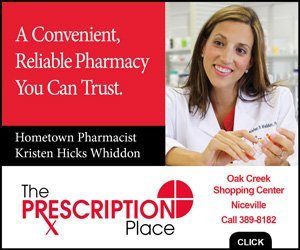 Niceville Young Professionals (NYP) recently donated school supplies and other items to the Education Committee of the Niceville Valparaiso Chamber of Commerce Foundation. The Education Committee presents a gift basket to a local school each month to show support and appreciation. With this donation the Education Committee with add a school supplies basket as well.
"It is great to see this group of Young Professionals making meaningful contributions to our community. We are very thankful for the contribution made to the Education Committee and I know the teachers who receive them will appreciate their thoughtful donation as well," said Chairman of the Foundation Board Scott Jackson, Gulf Power.
Throughout the month of July, NYP members will collect donations for the Emerald Coast Autism Center. Suggested donations include art supplies, bubbles, candy with no nut products, craft supplies, playdough, toys for all development ages and wet wipes. Items can be dropped off at the Niceville Valparaiso Chamber of Commerce during normal business hours.
NYP is an emerging group of young professionals committed to making measurable and significant impacts in both their personal and professional lives, as well as in the Niceville and Valparaiso communities. The group is currently accepting new members and information on the group can be found online on the Niceville Young Professional's Facebook page or at the Niceville Valparaiso Chamber office at 1055 E. John Sims Parkway