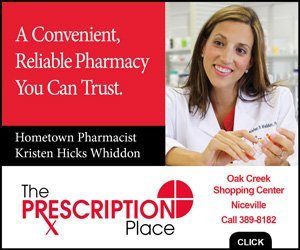 The 2014 Niceville Community Christmas parade will be held on Saturday, December 6, 2014 starting at 10 a.m.
The parade ushers in the Christmas Holidays in Niceville and Valparaiso, and is one of the community's most popular annual events. Folks begin early staking out a place to watch along the parade route.
The 2014 parade theme is "Let's Build a Snowman." How do we build a snowman in Florida?  No doubt parade participants will use plenty of Boggy creativity!
During the parade, Toys for Tots will again be collecting new unwrapped toys.
The parade route is designed to enable all entrants to complete the entire route.  The parade route begins on John Sims Pkwy at the intersection of Palm Blvd., and goes to Partin Drive where the parade will turn north and travel up Partin Drive between the Children's Park and Ruckel Middle School.
The location of the judging stand is in the Ruckel Middle School Parking lot on Partin Drive.  Staging of the parade will be on north Palm Boulevard and Marc Smith Boulevard.
If you are interested in participating in the December 6 Christmas Parade, you may download an entry form HERE.