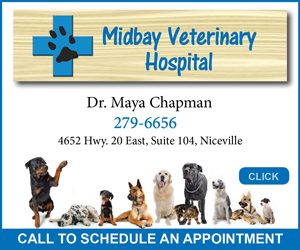 204 N. Partin Drive (Civic Center Complex across from Ruckel Middle School), Niceville FL
The Niceville Children's Park is a fun, happy and safe place for children to play. Youngsters enjoy sandboxes complete with pails and shovels, a bubble machine where a push of a button fills the sky with bubbles, and a large assortment of entertaining and colorful age-appropriate equipment such as slides, monkey bars, rocking dinosaurs, and diggers.
The one-acre park also is a lovely place for adults to relax while they watch their children at play. Walkways allow easy access throughout the park. Seating areas with gazebos and cabanas are available where families and friends can enjoy a meal. The center of the park offers drink machines and tables with umbrellas for eating or relaxing. The park's bathroom facilities include changing tables.
The Children's Spray Park-Splash Pad located at the Children's Park is extremely popular when the temperatures climb! The Spray Park-Splash Pad has palm trees that spray and drop water, soaking those below. A Blue Heron surprises children by soaking them as they walk by. Magic Mushrooms spray water all around, creating a tent for children to sit under. Comfortable tables, chairs, and umbrellas are available for grown-ups to relax and enjoy watching the children play.
The Spray Park is seasonal. Please check the hours before planning your visit.
Courteous park attendants are always happy to offer any assistance needed while visiting the park.
CLICK HERE FOR CHILDREN PARK/SPRAY PARK HOURS
The park attendant may close the park at his or her discretion for the safety of visitors due to weather conditions. For example, when:
– The heat index exceeds 95 degrees
– The wind chill drops below 40 degrees
– Lightning is spotted in the area
– It begins to rain (it takes approx. two hours after a rain for the park to dry sufficiently to re-open)
BIRTHDAY PARTIES: The Niceville Children's Park is a wonderful setting for birthday parties.  The following areas may be reserved for birthday parties:
Covered cabana -sprinkler
Covered cabana-back of park
Gazebo-sprinkler
Gazebo-back of park
Reservations are required. There is a fee. For more information or to make a reservation, call 642-7457.
City of Niceville Children's Park Page