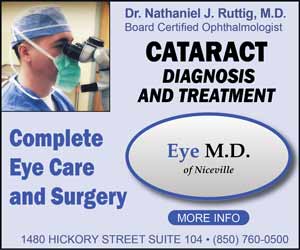 The Northwest Florida Symphony Orchestra presents its popular Holiday Pops concert on Friday, December 11, 2015, 7:30 pm, at the Mattie Kelly Arts Center in Niceville. Holiday Pops features the more than 70 voices of the Northwest Florida Symphony Chorale and Belle Voci Women's Ensemble and more to ring in the holidays in festive style.
Tickets for the December 11, 2015 "Holiday Pops" Season Concert are on sale now for $25 adult, $18 youth and $18 for active duty military members with up to four guests, from the Mattie Kelly Arts Center Box Office at (850) 729-6000 or online at www.MattieKellyArtsCenter.org. NWF State College students may request one free ticket per student ID in-person from the Box Office.
All tickets are available in advance by web or from the Box Office – open 10:00 am to 4:00 pm Monday to Friday and 90 minutes prior to each concert/event (6:00 to 7:30 pm).
NFSO Maestro Rink noted, "There's simply nothing like our state-of-the-art concert hall to experience marvelous music of this caliber with the orchestra, chorale and NWF State College scholarship vocalists."
In 2016, the NFSO season continues on Saturday, January 23, 2016, as the NFSO presents its second special national event concert of the season with the world-famous "Dukes of Dixieland" from New Orleans in a Mardi Gras extravaganza of jazz and brass, backed by the NFSO.
"The DUKES only accept about 30 dates a year to appear at much sought-after concerts in the USA and overseas, never straying long from their home base in New Orleans on the Steamboat Natchez," noted NFSO Maestro Jeffrey Rink. "So, we were thrilled to be able to book this wildly popular group for a jammin' good time during Mardi Gras season to benefit the NFSO".
Unlike their Dixieland name, the Dukes play a range of New Orleans music, from Dr. John and Fats Domino, to Huey Smith and Louis Prima, not to mention many of their own original tunes. With a repertoire of roughly 400 tunes, they are the pre-eminent New Orleans band as well as official New Orleans Ambassadors. When not touring, the Dukes work the dinner cruise on the Steamboat Natchez. They also find time to record (26 albums), produce three (3) PBS television shows ("New Orleans Pops"; "Salute to Jelly Roll Morton" and "Celebrating Satchmo") , and stream one show a week, up to the internet. Tickets are $37 each.
On Saturday, February 6, 2016 an NFSO Guest Artist Recital features a return of pianist Tomer Gewirtzman who also appears November 14, 2015 at the NFSO's PianoPalooza concert. Tickets are $20 each.
The NFSO Symphony Guild presents its annual Symphony of Taste Food and Wine Fest on Sunday, February 21 to benefit the NFSO. Tickets are $40 in advance and $45 at the door.
A rare performance of Mendelssohn's complete Incidental Music to a Midsummer Night's Dream, will herald the beginning of spring on Saturday, April 9, 2016 in a "The Magic of Mendelssohn" concert with the full NFSO in the Mainstage Theater of the Mattie Kelly Arts Center. Written at the age of 17, Mendelssohn's magical score will be brought to life by Narrator Clint Mahle, soprano Amy Bullard, mezzo soprano Jennifer Boudette and the women of the Northwest Florida Symphony Chorale, NWF State College Madrigals and Belle Voci Women's Ensemble. Also appearing will be German Guest Artist and acclaimed saxophone virtuoso Philipp Stäudlin who will opens the April 9, 2016 concert with Debussy's First Rhapsody and an entertaining Opera medley. An award-winning performer and educator, Mr. Stäudlin was recently named to the faculty of the prestigious Boston Conservatory of Music.
On May 13, 2016 the "Stars of Tomorrow Meet Beethoven" evening concert will highlight a week of family and youth oriented offerings as the NFSO also performs its 29th annual daytime Fifth Graders Concert, as well as its fourth year of partnership with Carnegie Hall's innovative Link Up program to provide two interactive concerts for area 4th graders. "The NFSO's longstanding music education programs for youth are a vital part of our mission and have served more than 80,000 local youth for more than 25 years," said Jeffrey Rink. "The NFSO's Stars of Tomorrow concerts, the annual Concerto Competition, our KATS Kids-at-the-Symphony program, hosting visits by our international Guest Artists in local schools, and more are bringing the magic of great music to area youth."
The evening "Stars of Tomorrow" concert on Friday, May 13 in the mainstage theater of the Mattie Kelly Center is $25 adult and $18 youth. Schools may sign up now free of charge for the NFSO 5th graders day-time concerts on the same date (May 13) as well as for the year-long "Link Up with Carnegie Hall" program for 4th graders that concludes with concerts May 9 and 10, 2016. Contact the Mattie Kelly Arts Center at 729-6004 or Jeffrey Rink at 729-6023 for information.
The NFSO 2015-2016 season concludes Saturday, May 21, 2016 with at final Guest Artist Recital featuring distinguished American pianist Michael Lewin, who has concertized in more than 30 countries across the globe. Lewin's highly-praised and wide-ranging recordings include the Grammy-nominated "If I Were a Bird: A Piano Aviary." He is a Juilliard School graduate and a Steinway Artist. One of the most sought-after teachers in the US and is on the piano faculty of the Boston Conservatory. Guest Artist Solo Recital tickets are $20 each.
The NFSO relies on tax-deductible donations and corporate underwriting to support the orchestra and its numerous, long-standing educational endeavors for area youth. To make a donation to support the NFSO or request information on advertising in the season program, contact Maestro Jeffrey Rink at rinkj@nwfsc.edu or (850) 729-6023. See the NFSO website for more information on the NFSO at www.nfsymphony.org.
Season tickets are available by phone or in-person. Single concert tickets by web, phone or in-person from the Box Office. NFSO Gold Season packages of seven concerts (5 Regular Season NFSO concerts plus 2 National Touring Events) are on sale for $189. A 5-concert NFSO season package is available for $115. Single tickets are $25 each for NFSO regular Season Concert.
Website: http://www.nfsymphony.org