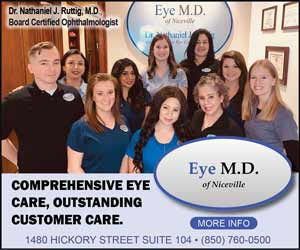 Students from all over Florida gathered in Lakeland, Florida, last week for the 59th Annual State Science and Engineering Fair.
This year Nick Hopkins, a Fort Walton Beach High School senior, was selected to be one of five speakers during the opening ceremony. Approximately fifty students submit speeches in hopes of being chosen.
So impactful was Hopkins' speech that the State Judges Chair declared it to be a "life changing moment," as he quoted Hopkins in his Awards Ceremony speech. "There were 1.74 million students eligible for the State Science Fair. Nine hundred worked hard enough to be selected. I have heard it said that these kids are one-in-a-million. They are not. They are one-in-1.74 million."
Later that night, Hopkins received an Honorable Mention in the Engineering Category for his project, "Analysis and Design of Powered Exoskeleton Technology Emulating Human Body Functions." He also won the national Aeronautics and Space Administration and Florida Institute of Technology Awards. Upon admission, FIT will give him $14,000/ year in scholarships.
The big winners of the night were Bayley McMenimen, Ruckel Middle School, "Sonoluminescence & Magnetism," and Camille Miles, Ruckel Middle School, "Fun in the Sun." They both won First Place Awards in the Junior Division Engineering category. These Ruckel eighth-graders' innovative research projects, documenting advances in alternative energies, also won $200 cash special awards from the Florida Department of Agriculture and Consumer Services.
In addition to energy, another world concern to scientists is world hunger. Niceville High School student, Sarah Craig, was awarded a Second Place Award in Botany for her project, "The Effects of Rhizobia Inoculation on Moringa oleifera Growth: A Fourth Year Study." She documented a significant increase in growth rate and yield utilizing beneficial bacteria in the agricultural process.
Students from our region won awards in multiple categories and brought home nearly sixty-thousand dollars in prizes.
Congratulations to all of our State Science Fair Winners:
Behavioral and Social Sciences (Junior)
Eve Glenn, Ruckel MS, Fourth Place
Biochemistry (Junior)
Brody Boan, Davidson MS, $50
Biochemistry (Senior)
Angela Fermin, Choctawhatchee HS, $50
Botany (Junior)
Lauren Matthews, Niceville HS, Fourth Place and $300
Botany (Senior)
Sarah Craig, Niceville HS, Second Place
Chemistry (Junior)
Liam Ordner, Okaloosa STEMM Academy, Honorable Mention and $10
Computer Science (Junior)
Patrick Womack, Destin MS, Honorable Mention
Earth and Planetary Science (Junior)
Fiona Brown, Okaloosa STEMM Academy, Recognition
Earth and Planetary Science (Senior)
Catherine Parker, Niceville HS, Recognition
Engineering (Junior)
Bayley McMenimen, Ruckel MS, First Place and $250
Camille Miles, Ruckel MS, First Place, $200, US Navy Certificate and Medallion
Calvin Boole, St. Mary's Catholic School, Third Place
Daniel Bobbitt, Ruckel MS, Fourth Place and $200
Ryan Murphey, Ruckel MS, $25
Engineering (Senior)
Alexis Hopkins, FWBHS, $125, US Navy Certificate and Medallion
Brayton Miles, Niceville HS, Third Place, NASA Plaque, US Metric Association Certificate
Nicholas Hopkins, FWBHS, Honorable Mention, NASA Plaque, $14,000 per year scholarship To Florida Institute of Technology
Environmental Sciences (Junior)
Zachary Verzwyvelt, Ruckel MS, Honorable Mention
Environmental Sciences (Senior)
Chase Cleveland, FWBHS, Fourth Place
Medicine and Health (Junior)
Andrew Huffman, St. Mary's Catholic School, Honorable Mention, US Surgeon General Certificate
Microbiology (Junior)
Ammar Syed, Shoal River MS, Fourth Place
Physics and Astronomy (Junior)
Jacob Kitchen, Davidson MS, Third Place
Zuhair Syed, Shoal River MS, Honorable Mention
Zoology (Junior)
Connor Cleveland, Bruner MS, Fourth Place