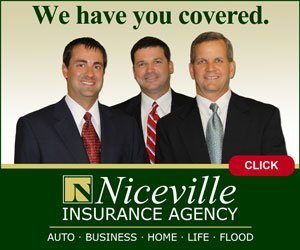 The Kiwanis Club of Niceville – Valparaiso recently presented a $5,000 donation to Children in Crisis to help build a new home for foster children from Northwest Florida.  Many of the at risk children needing a safe, loving home are abused, neglected or abandoned.
Ken Hair, CIC President & CEO commented, "Although we've give a home to over 500 at-risk children since opening our first foster home in 2008, there's still a severe shortage of  traditional foster homes in our area.  Building the Travis Trangas Memorial Foundation home will help us give a safe home to over 100 children each year.  Support from the Niceville – Valparaiso Kiwanis is a tremendous help and we appreciate all they do for our children."
Kiwanis is a global organization of volunteers dedicated to changing the world one child and one community at a time.  Their mission is serving the children of the world, which by all accounts is a very rewarding experience!
The CIC Children's Neighborhood is a beautiful facility, built by the generous support of the community.  It has an emergency shelter for children who are removed without notice from an unsafe environment, family foster homes for young children and a teen transition home for foster children aging out of foster care.
To learn more about Children in Crisis call 850-864-4242 or visit www.childrenincrisisfl.org.
Photo (above, left to right):  Kiwanis Club of Niceville-Valparaiso President, Tim Parsons presents a $5,000 check to Ken Hair, CIC President & CEO, to help build a new foster home for at-risk children in the community.