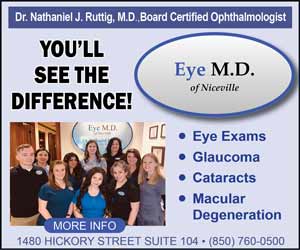 Just how nice are the residents of Niceville, Fla.? According to North Pole officials closely associated with Santa's Annual Reindeer Ride, VERY nice!
Niceville, the city whose name was inspired by the large number of residents who make Santa's Nice List each year, has again lived up to its friendly moniker: Niceville reportedly is the ONLY community in the nation to have ALL the children living within its city limits personally certified "Nice" by Santa Claus.
The perfect score stood up even after Santa checked it twice.
According to reliable sources at the North Pole Bureau of Yuletide Statistics (NPBYS), Niceville always has more people on the Nice List each year – and fewer on the Naughty List – than other communities of similar size and population. However, this year is the first Niceville has achieved a perfect Nice List for residents aged 17 years and younger.
"A handful of young people in Niceville who were in jeopardy of making the naughty list either redeemed themselves over the past few days or other children redeemed them through their good deeds," said a high-ranking NPBYS official speaking under condition of anonymity. NPBYS issues no official public statements or comments about Santa's Naughty and Nice lists.
Because of Niceville's perfect Nice List score, Santa Claus is expected to visit more homes and spend a bit more time in Niceville this year than ever before.
Even so, Santa does not dillydally when he's in Niceville delivering gifts. According to a pointy-eared source assigned to Santa's Time Management Authority, Santa has good reason to keep on the move.
"There's nothing more nervous than a reindeer on a rooftop in Niceville during hunting season," he said.
The most popular Christmas gift in Niceville, hunter's camouflage clothing, underscores the need for Santa to be lively and quick.
Reportedly, Niceville also has a larger percentage of its adult population on the Nice List than similar communities across the country.
It is far from a perfect score, though. Niceville is home to several politicians and lawyers.