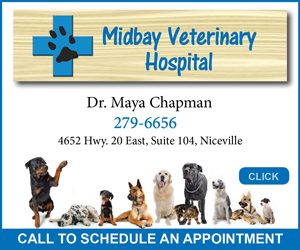 The EOD Warrior Foundation, a nonprofit organization that helps military EOD personnel and veterans and their families, has opened a new office location in Niceville. The new office is located at 701 John Sims Parkway, Suite 305.
"We are excited to be in our new location and look forward to becoming an integral part of the local community," explains Nicole Motsek, executive director of the EOD Warrior Foundation. "Our mission is to help EOD warriors and their family members in the toughest of times. Getting closer to Eglin Air Force Base and the home of EOD is very exciting."
While many people are unfamiliar with what EOD (Explosive Ordnance Disposal) technicians do, they are considered to have the most dangerous job in the military. Their job is to disarm an explosive device, while human nature is to run away from it. There are around 7,000 of these specialists serving in our military, and many of them come home with debilitating injuries, including lost limbs, blindness, paralysis traumatic brain injuries (TBI), burns, and the invisible wounds of war, post-traumatic stress disorder (PTSD).
"We are thrilled that the EOD Warrior Foundation has selected Niceville to establish a home office," says Tricia Brunson, president and CEO of the Niceville Valparaiso Chamber of Commerce. "Their mission is so important and meaningful to many in our local area. We look forward to a long term partnership as they continue to support those who have sacrificed for the freedom enjoyed in our nation."
About EOD Warrior Foundation
The EOD Warrior Foundation is a nonprofit organization whose mission is to help EOD active duty wounded, injured, or ill warriors, wounded veterans, and their families. They also provide assistance to families of fallen warriors. Their programs include providing a variety of services, such as college scholarships, crisis assistance, and financial assistance, hope and wellness retreats and care of the EOD Memorial located at Eglin AFB, Fla. To learn more about the EOD Warrior Foundation, or see their fundraising events calendar, visit their site at: www.eodwarriorfoundation.org.