Eglin community members gathered at the Black History Month luncheon at the Bayview Club Feb. 25 to celebrate this year's theme, "A Century of Black Life, History and Culture."
The occasion focused on the invaluable accomplishments and contributions military and civilian African-Americans have made in building and shaping America's history.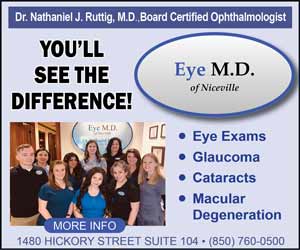 Lt. Col. Michael Patrick, 73rd Ordnance Battalion commander from Redstone Arsenal, Ala., was the luncheon's guest speaker.
"The fact is, African-American history is not just an African-American story," Patrick said. "It is rather an American story, which incorporates both Africa and America."
Patrick said African-Americans, whose collective story contains chapters of "twists and turns; ups and downs; trials and tribulations; labor and pain; cruel and inhumane acts; and segregation and desegregation," have contributed immensely to the betterment of America and abroad.
Patrick recognized African-American patriots whose service spanned the Revolutionary War, the Civil War, World Wars I and II, through the wars in Iraq and Afghanistan.
He named Crispus Attucks, an African-American sailor, who was the first man killed in the Boston Massacre and 2nd Lt. Henry O. Flipper, the first African-American West Point graduate, as predecessors to Gen. Benjamin O. Davis Sr., commander of the Tuskegee Airmen's 99th Pursuit Squadron; Lt. Gen. Daniel "Chappie" James, the military's first African-American four-star general and Gen. Vincent Brooks, the current U.S. Army Pacific commanding general and the first African-American to serve as cadet first captain, the highest rank an Army cadet can hold.
Patrick cited for their dedication to the betterment of America: Frederick Douglass, Harriet Tubman, Martin Luther King Jr., Rosa Parks and W.E.B. Dubois, Jackie Robinson and President Barack Obama.
"The reality is that without the sacrifices of many, none of us in this room would be where we are today," Patrick said.  "Each African-American pioneer cleared a portion of the path for thousands of others who would follow through their willingness to fight for what's right."
He closed his speech by charging each service member in attendance "to continue being the shining example of justice, equality and judges of character, not color, for leaders and subordinates in our ranks."
"I wholeheartedly believe that we are leading change and making the difference by our example and the example we set in our ranks, files and formations," he concluded.
Article by Kevin Gaddie
Team Eglin Public Affairs
Above: Lt. Col. Michael Patrick, 73rd Ordnance Battalion commander at Redstone Arsenal, Ala., was the guest speaker at the Black History Month luncheon Feb. 25 at the Bayview Club. This year's theme was "A Century of Black Life, History and Culture." (courtesy photo)