Dinosaur Zoo Live will thrill and entertain kids while stimulating their imaginations in ways that will forever connect them to their world. Feb. 21, 7 p.m., Mattie Kelly Arts Center.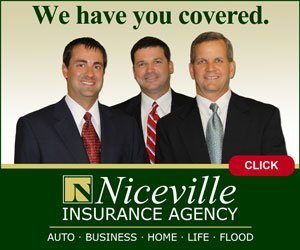 (NICEVILLE, FLA) – Get ready for the ultimate playdate – 65 million years in the making – as Erth's DINOSAUR ZOO LIVE guides your family on a breathtaking tour through pre-historic Australia. You'll observe, meet and interact with an eye-popping collection of amazingly life-like dinosaurs and other creatures presented in a theatrical performance that will thrill and entertain kids while stimulating their imaginations in ways that will forever connect them to their world.
The Family-friendly national touring event appears at the Mattie Kelly Arts Center on Tuesday, February 21, 2017 at 7:00 pm and is one hour in length. Tickets are $15 adult and $10 youth with a $5 off group discount for 10 or more tickets purchased together – $10 adult and $5 youth! YOUTH PRICES ARE FOR AGES 18 AND YOUNGER (through grade 12)! A special fossil display is from 6:00 to 7:30 pm in the lobby hosted by the NWF State College science department's resident paleontologist Dr. Jon Bryan, author of the book "The Roadside Geology of Florida".
Brought to life by a team of skilled performers and puppeteers, and designed with the help of professional paleontologists, Erth's DINOSAUR ZOO LIVE's huge puppets are so extraordinarily realistic you may feel the urge to run and hide – but don't! Because you won't want to miss a minute of this fun, unique, entertaining and educational live show created by Erth Visual & Physical of Sydney, Australia. While it may indeed have been 65 million years in the making, we think you'll agree, it's well worth the wait.
"Erth's Dinosaur Zoo delivers solid science as well as an extraordinary spectacle." NEW YORK TIMES
"A delightful and educational date with the dinos that provides visual oomph to rival 'The Lion King'". CHICAGO TRIBUNE
Voted 'Best Children's Show' By Adelaide Fringe Festival 2014 – Adelaide Fringe is Australia's largest arts event and one of the most diverse arts festivals in the world, renowned for fresh ideas, spontaneity and fun. Artists from around Australia and across the globe participate alongside home-grown talent, in art forms spanning cabaret, comedy, circus, dance, film, theatre, puppetry, music, visual art and design.
"It's a delight to come face to face with the genuinely unexpected in Australian company Erth's thoroughly entertaining kids' show, Dinosaur Zoo." – TIME OUT LONDON
ERTH — VISUAL & PHYSICAL Incorporated (Creator / Producer). Erth brings the impossible to life. For over 21 years, the company has developed a truly fantastic aesthetic and an extraordinary box of tricks, the foundations of its unique visual theatre works. The company regularly tours internationally, to every major Australian festival, and to regional and major city venues around the country. More than a million people have seen its dinosaurs in performance works such as Dinosaur Petting Zoo and Dinosaur Zoo Live, and in museums.
Their works range from large-scale interactive environments, such as The Garden — a prehistoric landscape inhabited by giant insects which premiered at the Melbourne International Festival of Arts — to more intimate in-theatre works and roving spectaculars. Dinosaur Petting Zoo has toured through Australia and overseas for four years and is now joined by I, Bunyip, and its cast of Australian Indigenous spirit creatures and their stories, which toured Australia nationally in 2012.
The Nargun and the Stars, an adaptation of Patricia Wrightson's novel, was commissioned by Sydney and Perth Festivals in 2009. The company has also been commissioned by major museums including The Australian Museum, Auckland War Memorial Museum (New Zealand), Powerhouse Museum (Sydney), The Field Museum in Chicago, Science Museum Minnesota, Natural Museums Liverpool (UK), Naturalis (Leiden), National Museums Northern Ireland, Montreal Science Museum and the Natural History Museum in Los Angeles.
Most recently Erth commissioned work and supplied dinosaur puppets for the Field Station Dinosaurs Theme Park (USA) which launched in May 2012. Erth's design studio has built for a huge range of cultural institutions and commercial clients from Sydney Opera House and City of Sydney, to the primetime Spanish television program, 'El Hormiguero'. Erth was founded in 1990 in Ballarat, Victoria and is now based at Sydney's CarriageWorks contemporary arts centre.