With the words "I hereby declare, on oath, that I absolutely and entirely renounce and abjure all allegiance and fidelity to any foreign prince, potentate, state, or sovereignty, of whom or which I have heretofore been a subject or citizen […]," Airman 1st Class Jae Yen Kim, 33rd Fighter Wing budget analyst at Eglin Air Force Base, finally became a United States citizen.
Most non-U.S. citizens who join the military are able to get their citizenship by graduation day at Basic Military Training. For seldom few, like Kim, the application process can stretch into their first duty assignment.
Kim's first attempt for citizenship at BMT fell through, but he entered technical school with confidence it would be complete by graduation.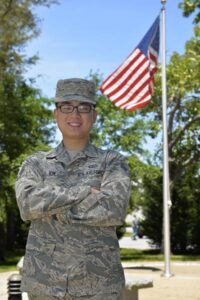 "Arriving at technical school, I expected my citizenship process to be done quickly and smoothly," Kim said. "However, I found out that the national customer service center representative who had been regularly visiting the base left the job. I did not have a chance to process my request for citizenship during technical school."
Kim graduated technical school with academic excellence, but without his citizenship. He was stationed here where the need for his citizenship took on newfound importance: he could not obtain the necessary clearance for his job without it.
For Kim's supervisor, Staff Sgt. Amanda Reynolds, 33rd Fighter Wing resource advisor, this was not the first time she had seen an Airman struggle to get their citizenship.
"The last time I worked with an Airman that didn't have their citizenship, it took a couple years before they were naturalized," Reynold said.
Despite those odds, Kim's determination and his leadership's support began to move the process along more quickly for the young airman. He contacted the United States Citizenship and Immigration Services using the Military Help Line, to get him on the right track and, soon after, the young Airman interviewed for his citizenship and took the oath of allegiance in Jacksonville, Fla.
Although it took longer than normal for the Budget Analyst to be naturalized, he knew a higher purpose was at work.
"I thank God for directing my path to finish and receive my citizenship. God guided and established my steps throughout the process," Kim said. "I am also thankful to my supervisor, Staff Sgt. Reynolds and everyone in my office for their support and care."
For Kim's leadership, it was all part of the wingman concept: supervisors are the first line of defense for the well-being of their Airmen.
"At its most foundational, the wingman concept is simply intended to promote the mindset of Airmen watching out for each other and using our individual abilities to better the collective whole," said Reynolds. "That is exactly what [airman first class]Kim needed as a brand new airman and it's what supervisors are expected to give to their subordinates."
Now that his citizenship is finalized, Kim intends to use his bachelor's degree in Statistics to apply to Officer Training School so he can commission as a cost analysis officer.
Photo: Airman 1st Class Jae Yen Kim, 33rd Fighter Wing resource advisor, stands with the American flag at Eglin Air Force Base, Fla., May 4th, 2016. Kim recently received his United States citizenship after complications caused a nine month delay. With his citizenship secured, the budget specialist plans to apply to officer training school to commission as a cost analysis officer. (U.S. Air Force Photo/Senior Airman Andrea Posey)