The 2017 Valparaiso Easter Egg Hunt will feature egg hunts, rides on Valparaiso Little Train, firetrucks and more fun.
The City of Valparaiso will hold its 2017 Easter Egg Hunt on Saturday, April 15, 2017.  The festivities will take place at Lincoln Park beginning at 9 a.m.
The Valparaiso Easter Egg Hunt is open to children 0-12 years of age. Youngsters will be divided into four age categories: ages 0-2; 3-4; ages 5-6; ages 7-9; and ages 10- 12.
Each age group will hunt separately, beginning with the youngest age group. The groups will be separated by 20-minute intervals.
Children hunt for eggs on their own. Help from parents or others is only permitted for children 2 and under and for children who have special needs.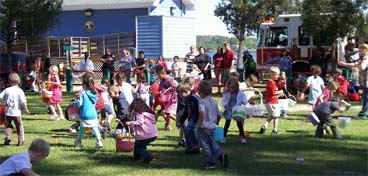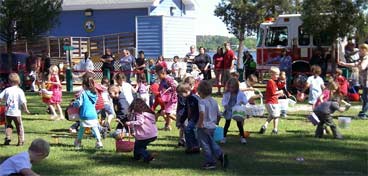 There will be more than 2,500 plastic eggs containing candy, stickers, and toys. Also, free rides for kids on Valparaiso's little train, the "Valparaiso Express," fire trucks and more at the 2017 Valparaiso Easter Egg Hunt.
Lincoln Park is located on Bayshore Drive.
The event will be canceled if the weather is bad. Last year's Easter Egg Hunt was canceled due to poor weather.
Related Stories: Niceville Egg Dash | Bluewater Easter Egg Hunt is Saturday morning | Sunrise Service Valparaiso Easter morning