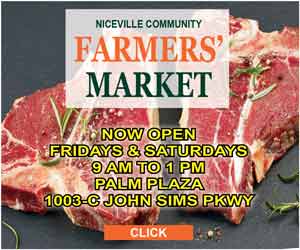 The Mattie Kelly Arts Foundation (MKAF) is proud to announce the 19th Annual Concerts in the Village will kick off on Thursday, May 1. The 9-week series will feature local and regional bands performing live from the Dugas Pavilion at the Mattie Kelly Cultural Arts Village every Thursday evening, May 1 through June 26 at 7:00 PM.
"It is exciting to keep the tradition going," said Marcia Hull, CEO of the Mattie Arts Foundation. "MKAF was one of the first in Destin to present live outdoor concerts. Each year, we strive to feature a mix of musical styles as well as local and regional bands to share their talent and entertain audiences of every age."
The 2014 concert line-up features local and regional bands performing a variety of genres, ranging from pop to classic rock to jazz and blues and everything in between. Back by popular demand, local band Déjà Vu will kick off the season, performing classic and modern rock as well as 70's, 80's, 90's dance music.
Hull went on to say, "we know our fans want to dance so we've created a schedule that includes music that will get audiences on their feet."
The season schedule is as follows: May 8, The Molly Ringwalds (80's Experience Band); May 15, the
Downbeat Classic Brass (A Rock 'n Roll Horn Band Review); May 22, The Mike Veal Band (Stump the
Band from over 200 artists); May 19, Ike Barkley (soul, blues & jazz, funky dance music); June 5, Lisa & The E-Lusion (Motown, Rock & Roll, 80's Dance Music); June 12, LavaLamp ( The best of the 70's disco, soul & funk); June 19, Alter Eagles (A Tribute to the Eagles); and June 26, Twelve Against Nature (Nashville's Steely Dan Experience).
The 19th Annual Concerts in the Village will be held at the Mattie Kelly Cultural Arts Village, housed on a 52-acre parcel off Commons Drive and just north of Henderson Beach State Park. The Dugas Pavilion overlooks nearly seven acres of the expanded Village Green, restroom facilities and on-site parking. Overflow parking is also available next door at Grace Lutheran Church.
Families will enjoy the relaxed outdoor setting and children can play on the Tringas Playground. The Picnic Supper Club, a popular concert tradition, is a benefit to sponsors and also available for MKAF members to purchase a season table to host friends, family or clients in a cultural atmosphere. Local restaurants alternate weekly serving fresh, affordable cuisine prepared on-site, and offer kid's menus.
Concert fans are welcome to bring their own picnic and wine or beverage of choice. Water, soft drinks and beer and wine by the bottle are available to purchase onsite with proceeds benefitting the MKAF's cultural and education mission. Concert fans can enter a weekly raffle drawing, including a grand raffle drawing at the concert finale on June 26.
Admission is $10 per person and children under 12 and MKAF members are free. For sponsorship and volunteer opportunities or more information, visit www.MattieKellyArtsFoundation.org or call 850-650-2226.
###
The Mattie Kelly Arts Foundation, a 501-c-3 not-for-profit charitable arts organization, was founded in 1995 on the cultural, educational and spiritual beliefs of the late Destin Matriarch, Mattie Kelly. The Foundation's mission is to be the champion of cultural arts and education in Northwest Florida.